Welcome to The Shake Shop Witney
The Shake Shop Witney is a Grade 2 listed building, with lots of original features and a great view over the bustling Witney High Street.
Although extremely quaint, our lovely little shop was just not big enough, so we were happy and excited to open the walled garden and 'Upstairs at The Shake Shop' in 2016. This provided us the opportunity to grow our little milkshake bar into 'The Shake Shop Experience'.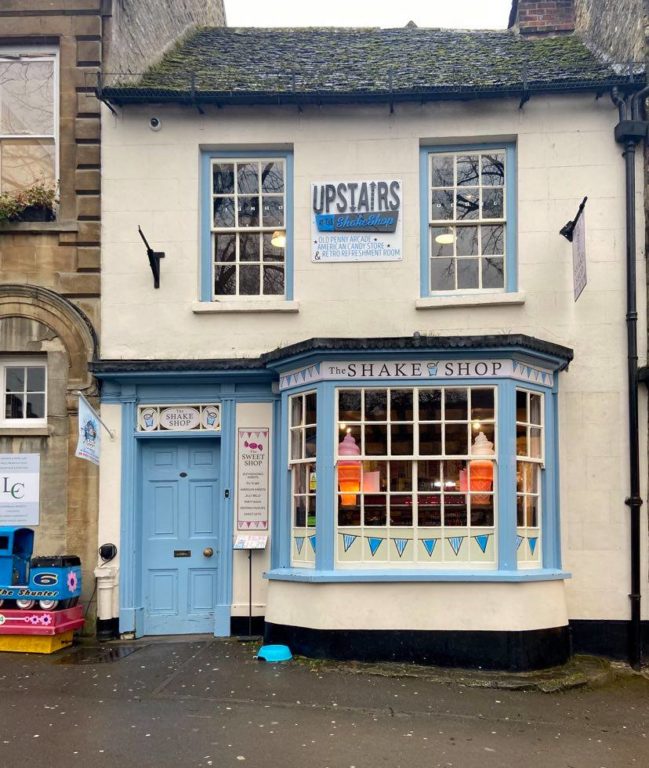 Visit the little blue shop … we are so much more than just milkshakes.
The Retro Refreshment Room
Enter our American themed diner and you will be transported to the fabulous fifties. Choose a booth or sip your shake from a high bar stool. Jive to the sounds of Elvis from our authentic juke box and pop a cent in our vintage American fortune telling scales.
The Old Fashioned Sweet Shop
In keeping with our lovely grade 2 listed building, you will find rows and rows of old fashioned sweets.
Which will tickle your fancy?
The children will be spoilt for choice with the kiddies selection and there is also a section for popular American candy.
We specialise in unique and personalised gift wrapped sweets, from party bags to sweet hampers. Get in touch and make someones day a little sweeter.
Click here to check out our online sweet shop for a range of our products
The Shake Shop Garden
Our beautiful walled garden is a peaceful haven hidden behind the busy High Street, where you can enjoy the sun drenched decking on the upper level. Dogs are welcome and you will find lots of little extra's to make your visit even more pleasurable. Children will love meeting our friendly polar bear and having a photo alongside our giant ice-cream sundae.
Come and visit us!
Address:
The Shake Shop,
12 Market Sqaure,
Witney,
Oxfordshire,
OX28 6BB,
United Kingdom
Contact us:
Email: [email protected]
Telephone: 01993 358353
Opening Hours:
Monday: Closed
Tuesday – Saturday: 10am – 5pm
Sunday: 11am – 4pm